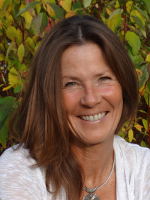 Heike Löschhorn
Even as a child and teen, I witnessed the power of our thoughts and the even bigger influence of our emotions on health issues. In my own family I can testify how the fear of cancer made it grow, if not exclusively, then to a great extent. I myself had been suffering from bad migraines for years until I detected the underlying patterns and got over them. I even managed to heal a diagnosed autoimmune disease all by myself. Over the years, I have been observing myself and the people around me, in private and in business life.  From the bottom of my heart, I wanted to understand the human being in a holistic way. I was fascinated to see, how differently people handled the apparent same situation. As I could not resist this calling any longer and learn more about the coherence of body, mind and soul, I quit my job in order to become an alternative practitioner in the field of psychotherapy. In the following years, I attended numerous different trainings, domestic and abroad, held by excellent representatives in the field of energy medicine. All these different energetic methods, that came to me like magic always in the right moment, were aiming at the same: to bring back the flow of "Ch'i" that was blocked in some way.
I want by no means to increase or decrease the value of the one or other approach. However, every additional educational training makes your own concepts change. My own preferences are definitely decisive in this process, more definitive for me has been the feedback of my clients. If you wonder that my website is mostly dedicated to one method, the Emotion Code and the Body Code by Bradley Nelson, there are two simple reasons for this:  in my opinion, Bradley Nelson succeeded in developing a simple cause-related system, where he put together the most relevant elements of different energetic methods in a unique way and topped it with his discovery of the heart-wall. Furthermore, my clients are able to see and feel above-average fast results and they are excited by the simplicity. Simplicity in double sense: in releasing emotional baggage as well as in the fact, that we can work together in remote sessions.
Of course, all these different trainings had a great influence on myself. Slowly but constantly, I have been changing my whole life. Some changes seemed difficult at first and were also painful, but in all this development was much to my relief. More and more I was becoming the one I really was supposed to be. I am very happy to say that today I am able to remember all my life with love and gratitude, completely free of pain, sorrow or feelings of guilt. Inner freedom is true freedom! To get rid of our emotional baggage is paving the way to this freedom and in my opinion it is the key to more vitality, zest for life and health, in short: the key to healing.
My heart's desire is to make this world a better place, together with you. If we manage to change ourselves, we change the world. If we are in peace, there is nothing but peace. If we are in love, there is love all over the world. If we twinkle like the stars, darkness dissolves. I want to encourage you to take personal responsibility. Do not believe anything! Check everything yourself! Look for caring people in your surrounding in whom you can trust. Tell them that you are interested in a sustainable solution to your problems, not in suppressing the symptoms. Be aware of your true self, of your uniqueness and your potential!

Let's talk about you and how I can help you. Contact me: